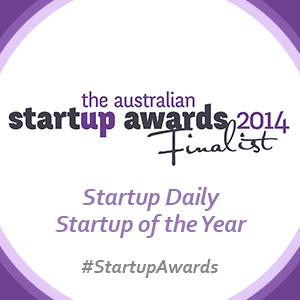 OrionVM and Its Founding Team Recognised for Entrepreneurial Innovation and Influence in Australia Across Multiple Award Categories

OrionVM® (www.orionvm.com), a leading provider of wholesale Infrastructure-as-a-Service (IaaS) and next-gen cloud technology, was named as a finalist today in the 2014 Australian Startup Awards out of over 360 entries, in the following categories: Startup of the Year and Executive of the Year.

The Australian Startup Awards recognise and celebrate the best of the best talent in young entrepreneurship across Australia. Each finalist and winner of a Startup Award is a young entrepreneur who is paving the way for the future of the Australian business landscape, challenging and reinventing the way in which business is conducted. The 2014 Australian Startup Awards culminate on Saturday, 2nd August 2014, where over 350 entrepreneurs, media and BRW Young Rich List Members will come together to honour OrionVM, the other finalists, and of course, the winners.

OrionVM helps IT solution providers drive profit and deliver high-performing, enterprise-grade cloud infrastructure. OrionVM is Australia's largest wholesale cloud IaaS provider and recently announced their US expansion in early 2014 with a new headquarters office in San Francisco, CA.

"We understand firsthand the tremendous pressure and drive for success that entrepreneurs feel. Resources like The Entourage provide the support that is hard to find in today's business world," said OrionVM Co-Founder and CEO Sheng Yeo. "We are honoured to be selected as a finalist in the Australian Startup Awards program. We strive to empower our employees and colleagues to achieve their goals, even when others are not willing to try or say it cannot be done. Sometimes those are the best opportunities to effect change."

Sheng Yeo, OrionVM CEO, and Alex Sharp, OrionVM CTO, co-founded OrionVM while attending the University of Technology in Sydney, Australia. From their dorm room, they created the concept of building an IaaS company using a completely new technology blueprint. Since their idea's inception in 2010, they have experienced rapid growth and currently service over 450 global clients, including government agencies, MSPs, and SaaS and PaaS vendors, with notable enterprise clients, including Fastly®, D-Link®, and Vodafone® while developing key technology partnerships with Cumulus NetworksTM and Mellanox. OrionVM also powers Australia's third largest telco's (AAPT) public cloud platform. OrionVM is backed by tech luminaries Gordon Bell (Microsoft Research) and Steve Baxter (Pipe Networks).

OrionVM was also recognised as a merit recipient and national finalist in the Tools category of the 2014 iAwards, Australia's premier technology innovation awards program for the ICT industry. OrionVM was also recently named as a Finalist in the New Product or Service of the Year category for Software – Cloud Infrastructure in the 2014 American Business Awards. Voting is currently open for the People's Choice Stevie Awards; to vote for OrionVM's IaaS wholesale cloud platform, visit http://www.stevieawards.com/FavoriteNewProducts.peopleschoice.

The Australian Startup Awards are organised and presented by The Entourage, Australia's largest educator and community of entrepreneurs in Australia, providing business owners across the country with access to the knowledge, support and resources needed to succeed in today's modern business environment.

Managing Director of the Entourage, Jack Delosa, has been impressed by the quality of nominees in this year's program and is encouraged by the rapid success savvy businesses like OrionVM are obtaining.

"The entries in this year's Awards really exemplifies how the business world has changed with many businesses starting in the last four years and already doing $15m or $16m revenue in their third or fourth year. Entrepreneurship is a rising tide globally and these businesses are examples of why this trend is occurring", Delosa remarks.

This year, to highlight the diversity and dynamism of Australian businesses, The Entourage joined forces with leading Australian companies to celebrate excellence in a range of categories. The Startup of the Year Award is being supported by vibrant multimedia company, Startup Daily. This award recognizes a business that is less than four years young and has experienced significant financial growth.
For more information on OrionVM, please visit https://www.orionvm.com. Details about the Awards and the list of winners and finalists in all categories are available at: http://australianstartupawards.com.au.

About OrionVM®
OrionVM is a wholesale Infrastructure-as-a-Service (IaaS) provider. The company's revolutionary technology suite (virtual storage, compute, orchestration and virtual networking) enables the delivery of high-performing, highly reliable cloud solutions at market-leading price-to-performance ratios. The OrionVM Wholesale Cloud Platform supports private, public, and hybrid cloud deployments and is built either for internal consumption or resale. Efficient and distributed enterprise-grade architecture allows clients to provide their own cloud offerings at margins of up to 80% off Amazon. Partners have full control—from a complete white-label rebranding to billing integration and flexible account management. OrionVM's technical vision represents a fundamental advancement for Cloud 2.0 infrastructure, which inspired tech luminary, Gordon Bell, to become a company angel investor. Global customers include publicly listed telcos, IT service providers, and leading enterprise SaaS companies. OrionVM company headquarters are in Sydney Australia and in the San Francisco Bay Area. For more information, please visit https://www.orionvm.com or follow the conversation on Twitter @orionvm.

About the Australian Startup Awards and The Entourage
The Australian Startup Awards recognise and celebrate the best of the best talent in young entrepreneurship across Australia. Acknowledging the diverse nature of entrepreneurship and the broad skillset required to achieve success in the modern business environment, The Australian Startup Awards recognise the achievements of business owners in the following areas:  Startup of the Year and Executive of the Year.

The awards are organised and presented by The Entourage, Australia's largest educator and community of entrepreneurs in Australia. Founded in 2010 by award-winning entrepreneur and investor, Jack Delosa, The Entourage has helped change the lives of hundreds of Australian entrepreneurs through their Scalable & Saleable advisory program. Complimentary training and education are provided to over 15,000 entrepreneurs through their flagship events, such as The Entrepreneurs' Unconvention and The 8 Steps to Entrepreneurial & Sales Mastery. Their goal is to enable entrepreneurs across Australia (and eventually the world) to win more business in less time so they can spend more time doing the things they love, whatever that may be. To learn more about The Entourage and how they can assist you in accelerating the success of your business, please visit http://www.the-entourage.com.au/.
https://www.orionvm.com/wp-content/uploads/2014/07/Finalist-Social-Media-Post-Startup.jpg
300
300
OrionVM Team
https://www.orionvm.com/wp-content/uploads/2015/02/orion_logo_v31.png
OrionVM Team
2014-07-23 05:00:13
2014-11-21 11:13:21
OrionVM Next-Gen Wholesale Cloud Named as Finalist in 2014 Australian Startup Awards