We recently published a case study on our channel partner, StrataCore, an IT services consultancy and brokerage based in Seattle. Today, we thought that we would share their story and explore some exciting trends in the world of next-gen IaaS, wholesale cloud, and the rise of the IT broker. StrataCore began sourcing cloud services for their business clients a few years ago as demand for cloud began growing rapidly. Dealing with vendor selection and management can be problematic for IT executives, so StrataCore assumes the burden of selection, negotiation and ongoing management, thus saving time, mitigating risk and reducing costs. Brokers like Stratacore play a critical role in the booming cloud ecosystem as they help differentiate real value from spin, optimal configurations and vendors from a seemingly infinite set of hardware and software options, all the while balancing the often-competing technical, financial, and strategic priorities. Successful brokers like StrataCore do this with a holistic vision of a company's goals so that their decisions do not detrimentally sacrifice one aspect (technical, financial, or strategic) in a manner that negatively impacts the overall health of a client's business.

Broker+Client+OrionVM = Win-Win-Winning
StrataCore pairs a client's need for a public, private, or hybrid cloud with the appropriate cloud service provider (CSP) to ensure that operational goals are achieved. With a multitude of vendors and services available today, it's up to StrataCore to differentiate among them to identify the best possible fit for each particular project. A recent example of this was a NASDAQ-listed client who needed a CSP with presence in Australia that could deliver high-performing cloud IT in support of a multi-million dollar commercial SaaS application. After a thorough review of the market and various vendors, StrataCore referred OrionVM to their client as the best solution. OrionVM's deployment was not only a success in terms of meeting cost, performance and timing requirements, but now is expanding to additional global POPS (points of presence). Complex deployment requirements, matched with an innovative cloud vendor, and StrataCore became the hero brokering a solution not otherwise possible via traditional options. Consequently, a happy client also means additional business and exemplifies the type of channel partnerships that provide ongoing value and profit for all involved parties. A true win-win-winning collaboration.

OrionVM's groundbreaking tech suite sits squarely in StrataCore's sweet spot: its firm commitment to providing the best possible solutions at the lowest possible cost to its clients. As a leading IaaS partner, OrionVM allows StrataCore to offer superior technical performance, huge CAPEX savings, and extreme flexibility for deploying premium cloud IT.

As Josh Gay, the Director of Strategic Alliances at StrataCore states:

"The stakes are high when deciding how to best deploy and scale a company's IT, and OrionVM's next-gen technology helps StrataCore deliver winning IaaS solutions for some of our top clients. OrionVM has cracked the code of how to build high-performing, extremely reliable cloud infrastructure—all at significantly lower price points than the offerings of bigger name vendors."
By signing on as an OrionVM channel partner, StrataCore is now able to offer the tangible technical benefits of Cloud 2.0 to clients, which include:
A turnkey, custom-designed and built infrastructure platform that utilizes technology commonly found in supercomputers
The highest level of efficiency, with performance that allows migration of enterprise workloads
40–1000 times the storage performance of a standard Amazon server, enabling clients to do more with less infrastructure
A fully redundant platform for rapid fail-over of servers in the event of an outage, ensuring resiliency with multiple copies of all data
Premium cloud IT built with a 50%+ reduction of the power/hardware footprint of prevailing Cloud 1.0 systems for huge cost savings
Advice for fellow IT Brokers and Resellers—proven innovators trump your misperceived allegiance to legacy vendors.
Identifying the best-in-class solution demanded by clients takes thorough research and vetting, and StrataCore stakes its reputation on the quality and reliability of its partner vendors. Successful deployments are the proof in the pudding, and satisfied clients ensure that this ongoing symbiotic relationship continues for the benefit of all. When it comes to sourcing CSPs, they look for companies that will not only meet the financial and technical requirements of the project, but they will be easy to work with, are well-supported, and provide tools and features that offer speed and efficiency when launching new systems. Additionally, by identifying breakthrough innovators like OrionVM, StrataCore sets clients up to win by delivering an infrastructure ROI not otherwise possible via legacy vendors, thus enabling clients to gain a real competitive advantage.

Cloud 2.0 changes the game – Is your CSP bonafide?
IT service providers have historically struggled between (1) the huge CAPEX and long development cycles of building their own cloud (BYO) and (2) the limited features/flexibility and hidden scaling costs of public retailers like AWS. Until now, there simply has not been cloud tech this cost-effective and powerful (in performance and reliability) to enable a third option between BYO and retail IaaS. OrionVM wholesale cloud delivers all the benefits of each approach, and amazingly, with none of the drawbacks.

This type of one-stop, complete turnkey cloud solution is unprecedented in the IT ecosystem, and thus, is truly a game-changer. Or as stated by BizCloud:

"OrionVM's Wholesale Cloud Platform has the potential to really shake up the U.S. Infrastructure as a Service market. The breakthrough technology and fully distributed architecture of the platform enables cloud brokers and service providers to maximally monetize the cloud by rapidly delivering differentiated, enterprise-class cloud services while keeping costs down. By offering the best price-performance ratio on the market to its white-label partners, OrionVM enables them to compete more effectively with larger, more established cloud providers."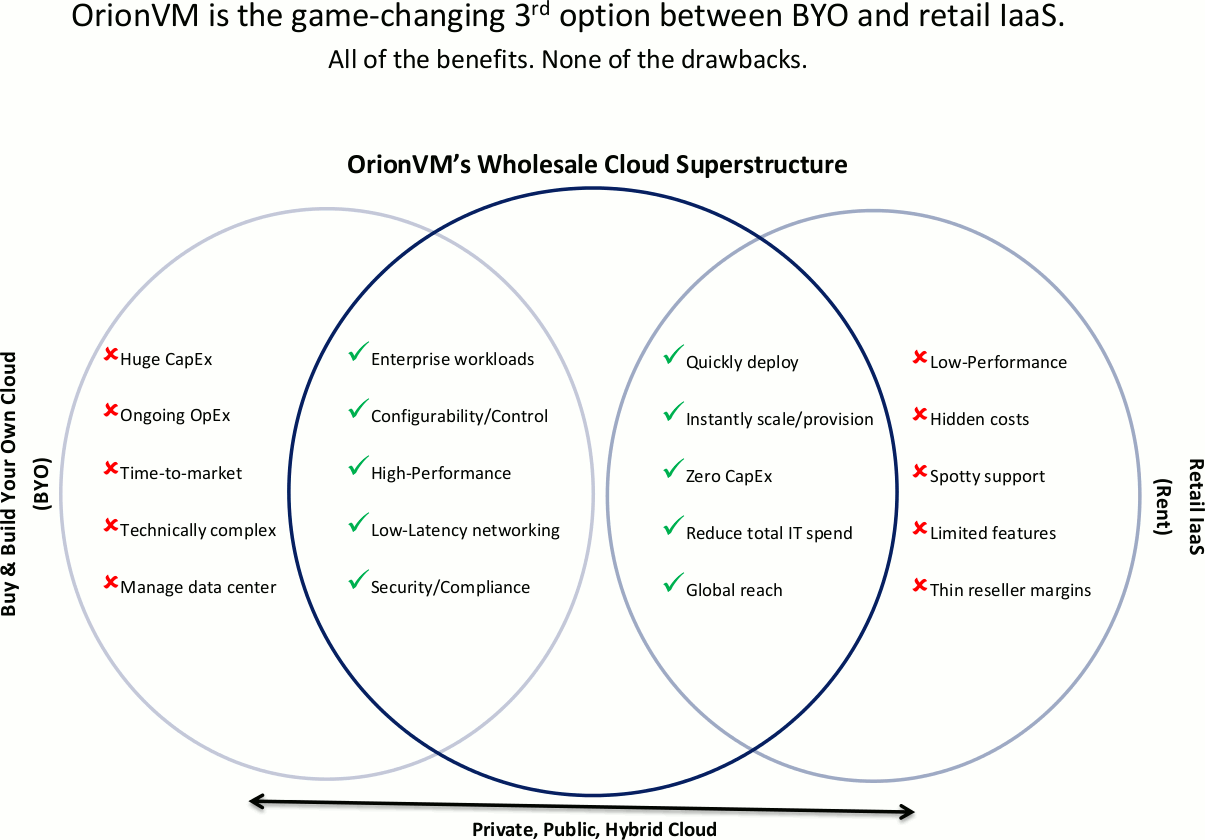 Summary: Cloud is a street fight – who really has your back?
We are entering a new realm of cloud computing as the next wave of technical innovation from emerging startups brings the dawn of Cloud 2.0, and with it, a new era of IT transformation and agility.

Alongside breakthroughs in disruptive IaaS technologies is the rise of the IT broker's role in sourcing solutions, particularly for SMBs not beholden to legacy systems and therefore able to quickly move to or launch in the cloud. This new wholesale cloud superstructure presents a tremendous opportunity for service providers to capture market share. The global market for cloud services is expected to grow from $131 billion in 2013 to $244 billion by 2017 (source: PwC).

If your company is not leveraging these advancements of Cloud 2.0, and purchasing known quantities of cloud consumption at wholesale rates—then you are at a competitive disadvantage and probably throwing money and resources away on legacy Cloud 1.0 vendors and business models. OrionVM has flipped the cloud narrative, and though the saying goes that 'nobody got fired for using IBM', tech savvy CEOs and CFOs, not brand-hypnotized, may soon be asking their IT leaders, "Why didn't we choose a CSP that allows us to easily launch stunningly secure and reliable enterprise cloud services, but at half the cost of our current big-name vendor?!?"

Ignorance will no longer be an acceptable answer.

https://www.orionvm.com/wp-content/uploads/2014/07/StrataCore_400x400.png
400
400
Daniel Pfeiffer
https://www.orionvm.com/wp-content/uploads/2015/02/orion_logo_v31.png
Daniel Pfeiffer
2014-09-24 12:19:25
2014-09-26 10:51:15
The Cloud Street Fight: How Leading IT Broker Stratacore Wins with OrionVM Wholesale Cloud