Hyperconvergence & Why It Matters for Enterprise Cloud

"A complex system that works is invariably found to have evolved from a simple system that worked. A complex system designed from scratch never works and cannot be patched up to make it work. You have to start over with a working simple system." – John Gall
Hyperconvergence is all the IT rage these days—even Gartner recently created a magic quadrant dedicated to the topic. With weekly announcements about multi-million dollar VC investments and new product releases, this space is still relatively young and pits some of the larger traditional vendors against a cast of emerging startups.
For all the buzz and spin around it, however, hyperconvergence itself is about simplicity—a minimalist approach that addresses many of the current cloud limitations and headaches. For example, a big challenge for today's high-level IT decisions makers is finding a careful balance between the often competing technical, financial, and strategic priorities of their companies or clients. For most organizations, reducing the amount of time and effort that it takes to deploy new business-facing IT services is a complicated mess, and there are no clear paths for doing this easily, quickly, and affordably from launch to scale. The datacenter architecture is simply too rigid or too complex. Business units have to wait while IT prepares the environment, and then everyone crosses their fingers hoping there is sufficient resources to support demand and critical operations.
Hyperconverged infrastructure has the potential to help effectively address these issues, and in turn reduce or maybe even end the need for IT finger-crossing.
What is Hyperconvergence?
Converged systems are a natural progression from traditional IT infrastructure, which typically involves separate silos of systems and operations. In these legacy environments, storage, servers, and network are discrete elements that need to be coordinated, connected, and managed. The concept of converged systems combines two or more of these infrastructure components as a unified pre-engineered solution usually deployed on commodity hardware.
Hyperconverged systems take this concept of convergence to the next level. While converged systems are separate components engineered to work well together, hyperconverged systems are modular systems designed to scale out by adding additional modules.
Why Does it Matter to Enterprise IT?
"Software licenses for virtualization often cost more than the actual systems, and companies with hyper-scale data centers (e.g., Google and Amazon) don't pay VMware or Microsoft for virtualization licenses — why should you?"  – Nimbox
One of the most significant advantages of this approach is leveraging a relatively simple design for a complex infrastructure environment. Normally, it could take months to design an infrastructure using a mix of best-in-class technologies. The differences between a hyperconverged system and servers with a bunch of disks are evident in engineering and software, with hyperconverged solutions leveraging improvements at the storage controller software layer to allow these systems to scale out.
In addition to the simplified architecture, there's also a simplified administration model. The hyperconverged systems are managed via "a single pane of glass." Instead of having a set of applications and a team to manage your storage array, a team to manage virtualization, and a team to manage the server hardware, one team (or in some environments one person) can manage the complete hyperconverged stack. What all this hardware simplification and architectural consolidation boils down to are immense savings and finally reasonable costs for scaling and growing out your Cloud IT footprint.
Platform or Appliance?
Most common definitions of hyperconvergence focus on appliances. The drawbacks to these appliances include the inability to make granular upgrades or tweaks to the system. Storage growth and performance tuning are also pain points for most organizations. If a cluster runs low on storage but not compute, you must still upgrade overall compute capability by adding another appliance. Likewise, if you want to tune storage disk configuration for a particular application, this can be a challenge, too.
In the past, the remedy for these drawbacks was the "build-your-own platform" approach. For many, the risk, lead-time, and cost of doing so were prohibitive, and most preferred to wait for solutions to mature and cover their platform requirements.
That wait is now over. OrionVM has built a platform that can be branded and deployed as an organization's own hyperconverged cloud. The white-label functionality of this solution allows an organization to have unlimited levels of resellers and end users, bringing the advantages of simple design, decreased administrative overhead, and simplified vendor management to highly virtualized environments without the common drawbacks associated with appliances.
Simplifying the Datacenter
While the cloud continues to be considered not suitable for everything, the datacenter will continue to play an integral role for many companies. Even those companies that embrace the cloud are unlikely to move everything, so there remains a need to simplify the datacenter, especially when it comes to supporting new initiatives. Building datacenter environments is a lot of work and requires significant planning to ensure capacity. The emerging hyperconverged market can be of great assistance in meeting datacenter integration needs and can scale to fulfill requirements of even the largest of organizations. It also simplifies the datacenter by providing a one-stop shop for the entire environment with a single phone number for support.
With the demand for these solutions expected to rise significantly in the coming years, it seems likely that these organizations will dramatically alter the landscape of cloud providers, redefining how and by whom cloud services are sold. As IT departments are continually being directed more toward the business and less toward the technology, the need and desire to turn to solutions like the cloud and hyperconverged infrastructure will cause CIOs to simplify their datacenter and redistribute workloads in new and agile ways.
OrionVM – Taking Hyperconvergence to the Next Level Since 2010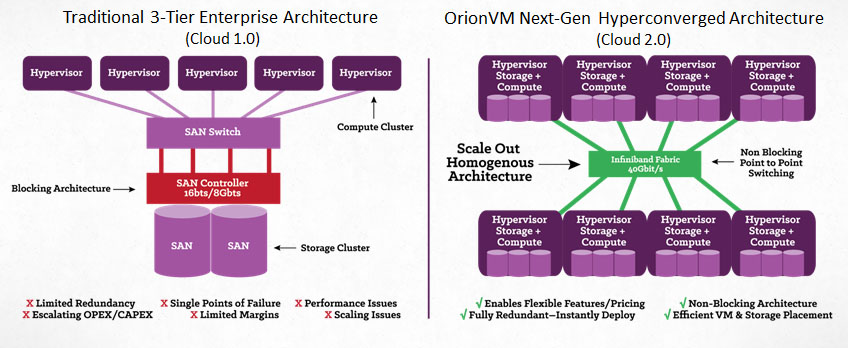 Hyperconverged solutions are the future of cloud IT. These systems continue to garner a tremendous amount of momentum in the marketplace. Hyperconvergence is at the heart of what differentiates OrionVM from every other CSP out there, and is the cornerstone of what makes us different. But not all hyperconverged systems are created equal—OrionVM has a custom-built platform that possesses some unique features and, as a result, passes along some significant advantages. OrionVM has built its hyperconverged stack from the kernel up – we use open source tech e.g. Linux and XEN hypervisor, then combine that with supercomputer mojo (e.g., 40 gig low latency Inifniband interconnect as opposed to 10gig Ethernet.)  The end result is a complete homogenous, fully distributed scale-out architecture that delivers efficiencies and COGS reduction (power/hardware) unprecedented and unmatched in terms of cost/performance and combination of features.
The differentiators and advantages inherent in OrionVM's hyperconverged wholesale cloud platform include:
Solves storage issues with a fully distributed block store that integrates compute, memory, and storage into single replicated nodes
No CAPEX: hyperconverged infrastructure offered as a platform vs. the high up front cost of buying an appliance
Can utilize preexisting assets such as datacenter capacity, network connectivity
Complete white label capability
Multi-tier reseller org management functionality
Wholesale model delivers sustainable cost advantages that increase in savings based on capacity commitments
Extreme performance/resiliency – up to 100,000 IO @ 4k in a VM with self-healing fully redundant architecture
For more detailed technical information on OrionVM technology, explore this blog post and keep an eye out for future posts that will expand on other groundbreaking technical advancements of the platform. OrionVM's hyperconverged tech is market-tested and market-proven, running production workloads for Tier 1 telecoms, publicly traded SaaS orgs, and government agencies since 2010.
Conclusion: The Future of Hyperconvergence—"To Infinity and Beyond!"
Hyperconverged infrastructure will continue to gain market traction, marginalize legacy systems, and underpin the massive migration of IT to the cloud. Some interesting drama lie ahead as big name incumbents battle the upstarts and, in some cases, go head to head with the very vendors they enabled (see Nutanix vs. VMware). With its tech innovation, OrionVM is uniquely positioned to carve out a differentiated role and shake up this industry, as we empower a whole sector of service providers to instantly leverage all the benefits of hyperconverged infrastructure… but with a no-CAPEX IT-as-a-service business model and wholesale pricing.
Stay tuned for more posts, analysis, and exploration on this topic as it is fundamental to so much that is happening in the current cloud ecosystem.  Hyperconvergence is a key factor that finally allows businesses to leverage and benefit from the long-touted promise of the cloud.
For further information on partnering with OrionVM please visit our Channel Partner page, or contact us
https://www.orionvm.com/wp-content/uploads/2015/04/Converged-Infrastructure_OVM.png
229
752
Daniel Pfeiffer
https://www.orionvm.com/wp-content/uploads/2023/08/orion_logo_v32.png
Daniel Pfeiffer
2015-04-17 01:00:10
2015-06-03 02:52:07
Hyperconvergence & Why It Matters for Enterprise Cloud