MicroPoPs, and bringing our cloud to your premises
This month's post is about our new technical offerings, but is also an opportunity to discuss some industry trends and where we see some opportunities and demand for cloud in the coming year.
Despite booming infrastructure and cloud spend, smaller data centre operators across every vertical continue to feel the pinch. Established clients have been replacing colocation with cloud for its flexibility, burstable capacity, and cost savings. Larger operators have attempted to introduce their own hardware-as-a-service platforms to compete, but with mixed industry reception and adoption.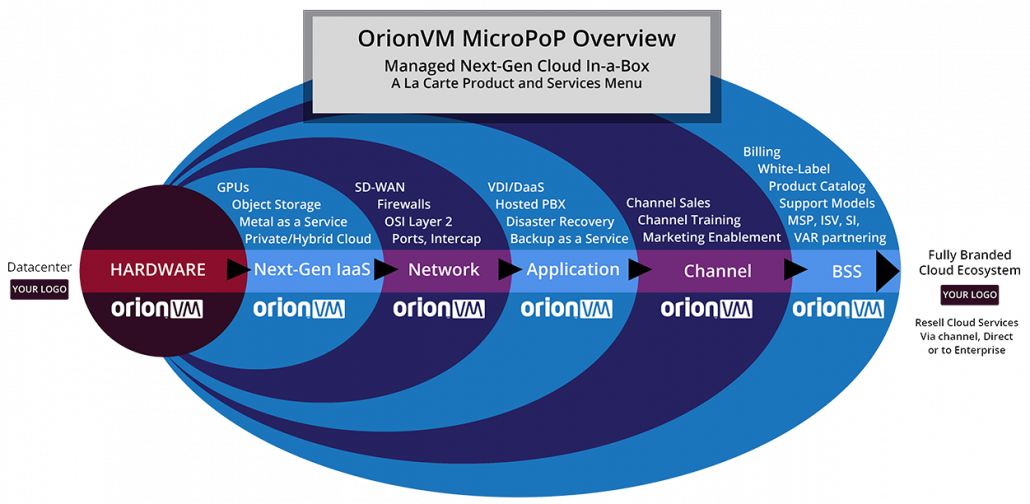 OrionVM recently launched its MicroPoP platform, which brings our sophisticated cloud infrastructure platform and expertise on-premise with a turnkey managed cloud appliance. This includes everything required to take an enterprise cloud to market, from engineering and sales support, a fully re-brandable portal, and flexible virtual storage, compute, networking, and object storage.
While our public cloud was designed for any business looking to resell cloud or bundle with other products, MicroPoPs were purpose-built for service providers like data centres, telocos, SaaS companies, and those with bespoke or custom hardware requirements. Installing a MicroPoP has allowed these facilities to enter the market with their own mature, industry-tested cloud offering. This has let them retain and grow their client base, while competing with larger cloud players.
MicroPoPs also enable business transformation and migrations in a way not offered by the hyperscalers. OrionVM's platforms offer the technology to launch a cloud platform, along with deep industry experience to take it to market and launch a competitive offering. We can offer your team training in architecture, sales, and marketing to help you succeed in this exciting new business.
The industry is moving to hybrid clouds, and has signalled increased weariness at trusting a few large players with their opaque pricing, patchy support, and lack of local industry knowledge. Data centre operators are in a unique position to capture this; our experience has shown that clients rarely want a pure cloud play, but are soured by exorbitant public cloud port costs and lack of sales assistance. Providing a cloud portal with co-located hardware has rendered previously expensive or difficult stacks attainable and cost effective.
MicroPoPs can be installed and added to OrionVM's global PoP footprint for an instant market of interested cloud customers, MSPs, telcos, and SIs. Alternatively, it can be rebranded entirely with your company graphics and URLs, and integrated into your existing product suite.
MicroPoPs come out-of-the-box with an OSI layer 2 networking stack, the same that powers our core cloud platform. Data centre providers can trunk existing networks into these environments, allowing their customers to grow into cloud offerings and offer hybrid solutions without a complicated mess of routers and networks.
Data centre operators have the experience and pedigree at delivering reliable space, cooling, power, and security. Coupling this with an OrionVM's MicroPoP infrastructure, and industry experience running clouds for more than a decade, weds the best of both worlds. We're keen to share more of these success stories and partnerships soon!
https://www.orionvm.com/wp-content/uploads/2023/08/orion_logo_v32.png
0
0
Ruben Schade
https://www.orionvm.com/wp-content/uploads/2023/08/orion_logo_v32.png
Ruben Schade
2022-03-16 07:50:02
2022-09-27 04:05:37
MicroPoPs, and bringing our cloud to your premises