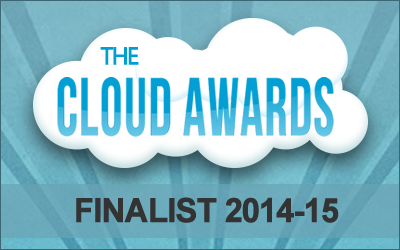 OrionVM® (https://www.orionvm.com), a leading provider of wholesale Infrastructure-as-a-Service (IaaS) and next-gen cloud technology, has been shortlisted in the 2014-2015 Cloud Awards Program in the category Best Cloud Infrastructure.

With awards for excellence and innovation in cloud computing, the cloud computing awards program accepts entries from across the entire globe, including the US, Canada, Australasia and EMEA. Now in its fourth year, entries are accepted from organizations of any size and include start-ups and government bodies.

Sheng Yeo OrionVM Co-Founder and CEO said: "We are seeing increased demand for wholesale cloud as more service providers discover the game-changing performance, cost-savings, and flexibility our platform delivers. To be shortlisted for Best Cloud Infrastructure by the Cloud Awards program is an honor and further validation of the technical innovation and business value that we bring to market."

Combining supercomputer architectures with extreme design efficiency, OrionVM dramatically reduces (by 50% or more) the overall data center footprint (power/hardware) required to produce premium cloud services.  OrionVM's breakthrough Cloud 2.0 technology provides a complete end-to-end enterprise-grade cloud offering 'out-of-the-box', allowing unprecedented speed-to-market compared to traditional technologies.

Cloud Awards organizer Larry Johnson said: "The standard of entries to this year's program has been truly staggering – so much so that even after culling hundreds of organizations from our consideration, our shortlist is still longer than ever before.

"We've been very impressed with how the Cloud ecosystem has evolved by the end of 2014 and these best-of-breed organizations are knocking it out of the park in terms of performance. These technologies aren't going away: leverage them now or ignore them at your peril.

"As ever, the US organizations have dominated the submissions process, but we're seeing more and more applicants from farther afield – Europe, the UK, Australia, Asia – we're running the biggest and best celebration of excellence in the Cloud and the whole world wants to join the party.

"When the dust has settled on what promises to be the most diverse and dynamic field of candidates yet, nobody knows what the 2015-16 Cloud Awards program will bring next year aside from continued excellence."

Over 300 organizations entered, with entries coming from across the globe, covering the Americas, Australia, Europe and the Middle East.

Final winners will be announced on Tuesday 27 January 2015. This will not be the end of the process, with a public vote announced on this date to decide who will win the Cloud Computing Organization of the Year Award.

The Cloud Awards (http://www.cloud-awards.com/) will return in 2015-16 for a fresh awards program seeking excellence in cloud computing.

Follow OrionVM on Twitter (@orionvm) and Facebook (https://facebook.com/orionvm). For more information on OrionVM, please visit https://www.orionvm.com.

Full shortlist

Best SaaS (US)

ClearSlide
Arena Solutions
Teletrac
Hewlett-Packard (Fortify on Demand)
Aryaka
Blue Jeans Network
TeamSupport
Verismic Software
iCIMS, Inc.
CLOUD by Point-of-Rental® Systems

Best SaaS (outside US)

NewVoiceMedia
Workshare
HRBoss
HRsmart, Inc.
RingCentral UK Ltd.
Class
Centium Software
Capital Continuity
Mambu GmbH
Thomsons Online Benefits

Best Cloud Infrastructure

SIOS Technology
Bitcasa
Zada Storage
OrionVM
Instart Logic
Nasuni Corp.
Infrascale
Code42
Hostway Services, Inc.
JobDiva, Inc.


Best PaaS / Middleware

Connectloud
WaveMaker
Jitterbit
ActiveState (Stackato)
Dell Boomi
Red Hat, Inc.
Centium Software
Ultimate Software

Data Innovation of the Year

Xactly
U.S. Energy Information Administration (EIA) – Office of Survey Support and Application Management (OSSAM)
Owned Outcomes, Inc.
Cloudera
BeyondCore
YouEye, Inc.
HRBoss
CloudSigma

Web Services Excellence

Informatica
Teach For All

B2B Customer Excellence

NewVoiceMedia
TechQuarters
BCSG

Security Innovation of the Year

Elastica
Carpathia
Incapsula
CloudLock
Agari
Promisec
AirWatch by VMWare
FortyCloud
Masergy Communications, Inc.
Radiant Logic

Best Cloud Reseller / Reseller Program

Veeam
Hostway Services, Inc.

Most Promising Start-Up

Connectloud
Numerify
YouEye, Inc.
XOcur, Inc.
Oman Data Park

Cloud Consultancy / SI of the Year

Cloud for Good
Virtusa
TechQuarters
Appirio
Kovarus
Bluewolf

Best HR / Payroll Solution

Xactly
Saba Software
HRsmart, Inc.
HRBoss
Electronic Commerce, Inc.

Best Cloud Automation

Abiquo
Aditi technologies PVT LTD
SkyKick
Unisys Corporation
RiverMeadow
British Gas
Appcara, Inc.
VMTurbo
CallFire
Nuage Networks

Best Payment, Chargeback or Billing Solution

Owned Outcomes, Inc.
Xero
Ensim Corporation
Avangate

Best Business Intelligence or Analytics Solution

Numerify
LivePerson
iAreaNet
BeyondCore
Collective[i]
Glassbeam
InsightSquared
United Public Safety (UPSafety)
SPS Commerce

Best Cloud Hosting Provider

INetU
B2W Software
MessageSolution, Inc

Most Innovative Use of "Big Data" in the Cloud

BlueData
SPLICE Software
CloudSigma
Zendesk
Owned Outcomes, Inc.
MapR Technologies
United Public Safety (UPSafety)
JobDiva, Inc.

"Best in Mobile" Cloud Solution

Xora, Inc.
SAVO
Perspecsys
Soonr
Hitachi Data Systems
Gemalto
Lifesize
Perfecto Mobile
Safetybank
Voxox

Best Hybrid Cloud Solution

Broadview Networks
Egnyte
Unitrends
INetU
CliQrTechnologies
ScienceLogic
Akbank T.A.S.
Brightcove, Inc.
OnX Managed Services

Cloud CRM Solution of the Year

Infusionsoft
TalkTalk Business
Zendesk
Vlocity, Inc.
HRBoss (StaffingBoss)
SugarCRM

-END-

Contact details
OrionVM Media Contact
Daniel Pfeiffer, VP Marketing and Partnerships
press(at)orionvm(dot)com
www.orionvm.com

For the Cloud Awards
Larry Johnson – 2014-15 organizer
www.cloud-awards.com
larry(at)cloud-awards(dot)com

About the Cloud Awards
The Cloud Awards is an international program which has been recognizing and honoring industry leaders, innovators and organizational transformation in cloud computing since 2011. The awards are open to large, small, established and start-up organizations from across the entire globe, with an aim to find and celebrate the pioneers who will shape the future of the Cloud as we move into 2015 and beyond. Categories include the Software as a Service award, Most Promising Start-Up, and "Best in Mobile" Cloud Solution. Finalists were selected by a judging panel of international industry experts. For more information about the Cloud Awards please visit http://www.cloud-awards.com/.

About OrionVM
OrionVM is a wholesale Infrastructure-as-a-Service (IaaS) provider. The company's revolutionary technology suite (virtual storage, compute, orchestration and virtual networking) enables the delivery of high-performing, highly reliable cloud solutions at market-leading price-to-performance ratios. The OrionVM Wholesale Cloud Platform supports private, public, and hybrid cloud deployments and is built either for internal consumption or resale. Efficient and distributed enterprise-grade architecture allows clients to provide their own cloud offerings at margins of up to 80% off Amazon. Partners have full control – from a complete white-label rebranding to billing integration and flexible account management. OrionVM's technical vision represents a fundamental advancement for Cloud 2.0 infrastructure, which inspired tech luminary, Gordon Bell, to become a company angel investor. Global customers include publicly listed telcos, IT service providers, and leading enterprise SaaS companies. OrionVM was also recently named New Product or Service of the Year for Software – Cloud Infrastructure in The 2014 American Business Awards. OrionVM company headquarters are in Sydney Australia and in the San Francisco Bay Area. For more information, please visit https://www.orionvm.com or follow the conversation on Twitter @orionvm.
https://www.orionvm.com/wp-content/uploads/2014/12/shortlist-2014-15.png
250
400
Daniel Pfeiffer
https://www.orionvm.com/wp-content/uploads/2015/02/orion_logo_v31.png
Daniel Pfeiffer
2014-12-17 23:59:17
2014-12-17 17:19:34
OrionVM Shortlisted for Best Cloud Infrastructure in 2014-15 Cloud Awards