OrionVM's channel-first deployment model gives us unique insights into what the cloud industry's pain points are. Its why we launched our Backup as a Service (BaaS) product with Comet last month (you can catch the webinar here), and continue to be at the forefront for solutions like GPU clusters and cost-effective hyperconverged cloud infrastructure.
This year we've witnessed a growing gap in the market for virtual desktop solutions that aren't served by the large public clouds. Customers want the ease of use and cost benefits of a simple remote desktop endpoint or published application, but they don't want to cede control and visibility into the underlying environment.
Sensitive workloads make desktops offered by the large clouds untenable, and their opaque and patchy support processes mean their customers are left in the lurch if something goes wrong. This is a show stopper for the channel, where you're delivering a solution and reputation with your brand, not just a generic cloud.
OrionVM has been working closely with Parallels® this year to deliver a solution to fill this need. Parallels recently announced our partnership on their company blog:
Parallels®, a global leader in cross-platform solutions, is partnering with OrionVM, a wholesale Infrastructure as a Service (IaaS) cloud provider. In this partnership, OrionVM will bundle Parallels Remote Application Server (RAS), a complete virtual desktop infrastructure (VDI) solution, into its next-generation IaaS cloud. The collaboration will allow Managed Service Providers (MSPs) to quickly deploy turnkey Desktop as a Service (DaaS) environments that create unique competitive advantages for their partners.
Parallels RAS is a turnkey deployment on our award-winning cloud infrastructure. You retain full control over your Windows Servers, firewalls, and storage, but your clients receive a slick web-based, mobile, and desktop application experience; all for significantly less than the generic public clouds charge. You can publish a series of applications or an entire desktop, all within a secured environment with redundant storage and network connectivity.
OrionVM's next-gen cloud is the ideal hosting platform that allows channel partners to easily deploy turnkey DaaS environments with unique cost-savings and technical advantages. With pricing as low as 20 dollars per user, MSPs and IT resellers can now quickly gain a competitive advantage in servicing remote workforces for businesses large and small. All in an environment that offers more flexibility, visibility, and control than other hosted desktop providers.
DaaS is useful for securing and monitoring work environments, especially for remote workforces that may be operating from home during lockdowns. Administrators retain control of data for compliance, and can ensure adequate backups instead of relying on end users who may BYOD or work in unsecured locations outside the company LAN. Administrators can view the entire environment from their OrionVM white-labelled portal, and configure their networks and AD exactly as required. Our partnership with WatchGuard® then allows the deployment of best-of-breed security above the stack.
This approach has also seen tremendous success with migrated workloads. Customers used to dealing with the limitations of low cost hosting providers have been able to achieve significant performance improvements moving to OrionVM, while still maintaining competitive pricing and margins. You get the technical advantages of OrionVM's cloud and Parallels ease-of-use, while meeting price points unachievable by traditional hosted desktops and inflexible, large public clouds.
Publishing legacy, pre-cloud, or bespoke applications behind a secured Parallels environment on OrionVM has been another interesting use case. End-users are able to smoothly access these desktop applications from a web browser on any device, or the Parallels Client application, even if the application previously required an on-site deployment or local workstation.
We'd love to get a demo environment into your hands, or to line up a call to walk through your requirements. Get in touch via our contact page. You can also join us for a live webinar on November 11th at 10:00 AM PST, click here to register and for more info.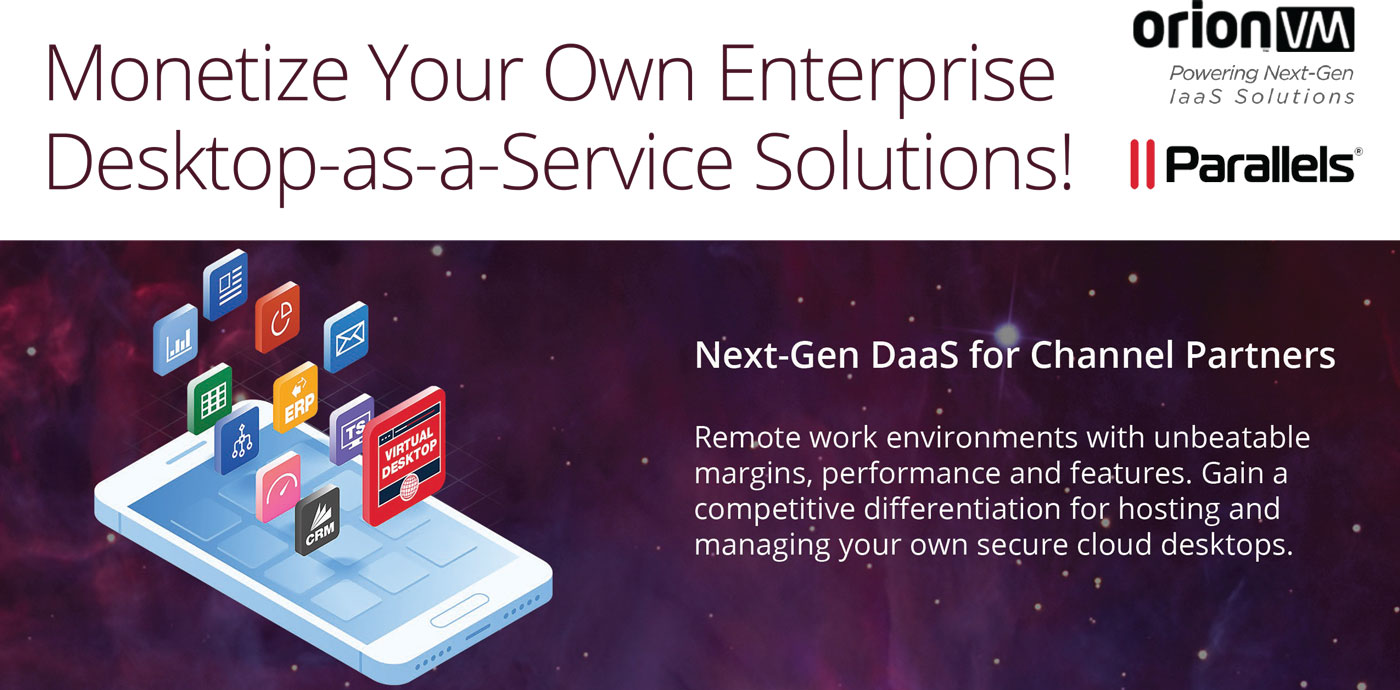 https://www.orionvm.com/wp-content/uploads/2015/02/orion_logo_v31.png
0
0
Ruben Schade
https://www.orionvm.com/wp-content/uploads/2015/02/orion_logo_v31.png
Ruben Schade
2020-11-06 04:46:42
2020-11-06 12:13:58
OrionVM partners with Parallels RAS to bring enterprise-grade DaaS to channel partners and MSPs