Why IaaS Will Power the Next Phase of Hyperconverged Integrated Systems
At the recent Gartner Data Center, Infrastructure & Operations Management Conference in Las Vegas, Gartner presented their expectations for Hyperconverged Integrated Systems (HCIS) over the next decade. The 'Prepare for the Next Phase of Hyperconvergence' talk was given by Gartner VP and Distinguished Analyst, George Weiss.
According to Weiss, 70% of HCIS deployments will be IaaS-enabled or HCI-aaS. Between 2015 and 2020, Gartner forecasts the HCIS market will grow at a 60.5% compound annual growth rate and is on track to be worth $5 billion by 2019.
Gartner calls HCIS the world's fastest growing market for integrated IT systems. It predicts hyperconverged systems will become mainstream by the end of the decade, as part of the 'Third wave of integrated systems' that emerges in the data center.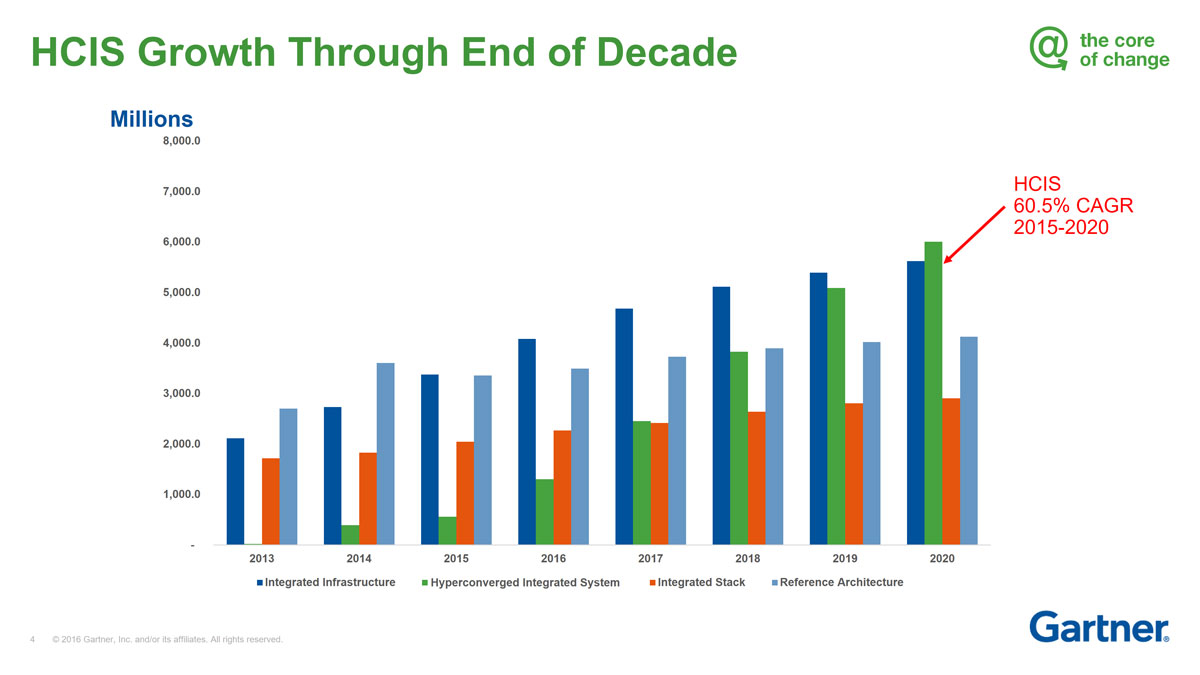 Source: Gartner, Prepare for the Next Phase of Hyperconvergence
Defining HCIS Today and Tomorrow
In essence HCIS, is a simplification of infrastructure that makes it more flexible and easier to manage. It achieves this by converging shared compute and storage resources based on software-defined storage, commodity hardware and a unified management interface on on platform. The real value of hyperconverged systems will be delivered through software and by commoditizing the underlying hardware stack.
Today, Hyperconverged Infrastructure can be in the form of an appliance, reference architecture or as flexible software in terms of the platform it runs on.
Gartner views HCIS as a progression of phases. We are on the cusp of the third phase of integrated systems where IaaS enables a new IT service delivery paradigm. This is where IT and developers are viewed as creators and we experience API-driven technology innovation and where new consumption models emerge.
This third phase will deliver dynamic fabric based infrastructure by offering modular hardware building blocks. Such flexibility will drive continuous application delivery and economic optimization possibilities. The evolving HCIS landscape presents a leadership framework to transform implementations and architectures.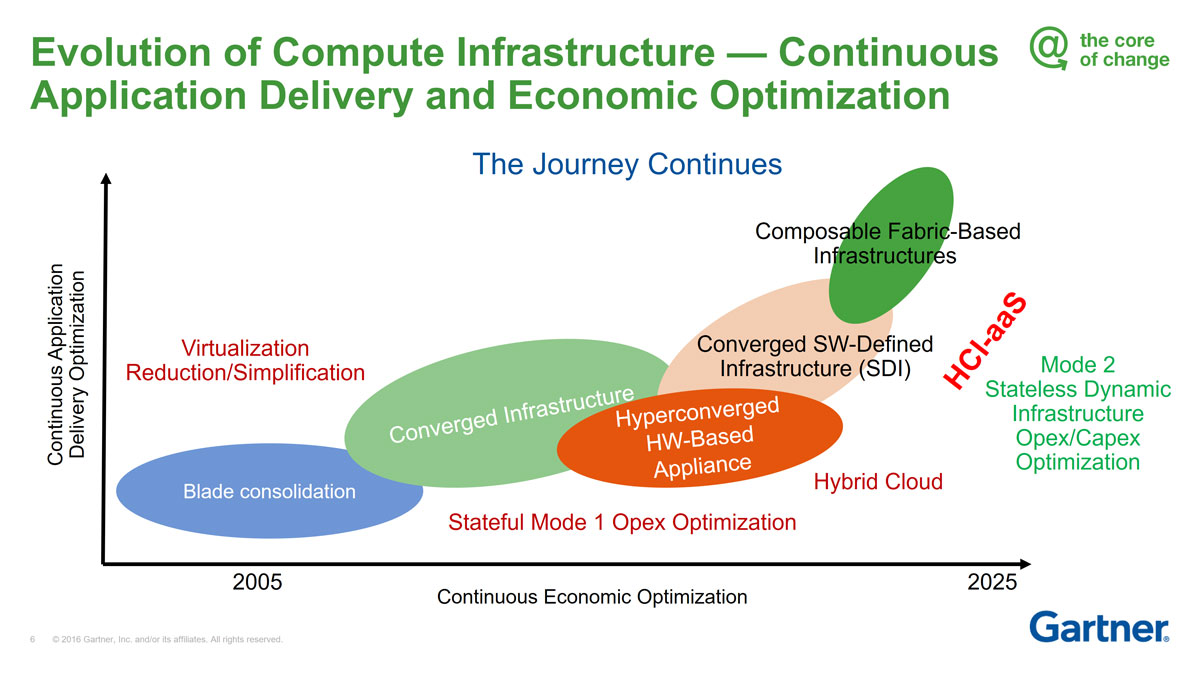 Source: Gartner, Prepare for the Next Phase of Hyperconvergence

Phases of HCIS Development: Past, Present, Future
2013 – 2018: HCIA = Hyperconvergence as an SW-defined appliance

2015 – 2022: HCIS = Hyperconverged systems as reference architectures

2016 – 2025: Hyperconverged service-based infrastructure
If using the cloud is in your future, this shift is particularly important. Only HCI-aaS readily accommodates the 5 Gartner Key Determinants: Simple, Flexible, Selective, Prescriptive and Economic. (Source: "Five Keys to Creating an Effective Hyperconvergence Strategy" )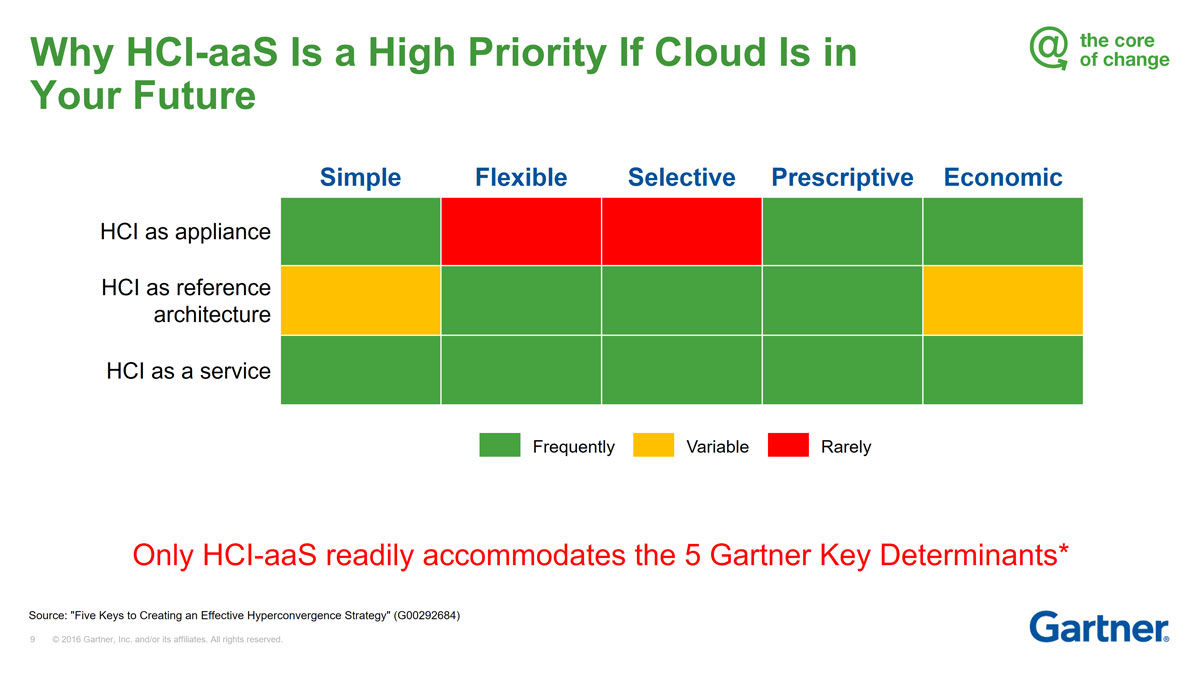 Source: Gartner, Prepare for the Next Phase of Hyperconvergence
When evaluating different technology vendors to power their cloud offering, companies should scrutinize the HCIS hardware/software blender effect for value plus, value basic and value depletion.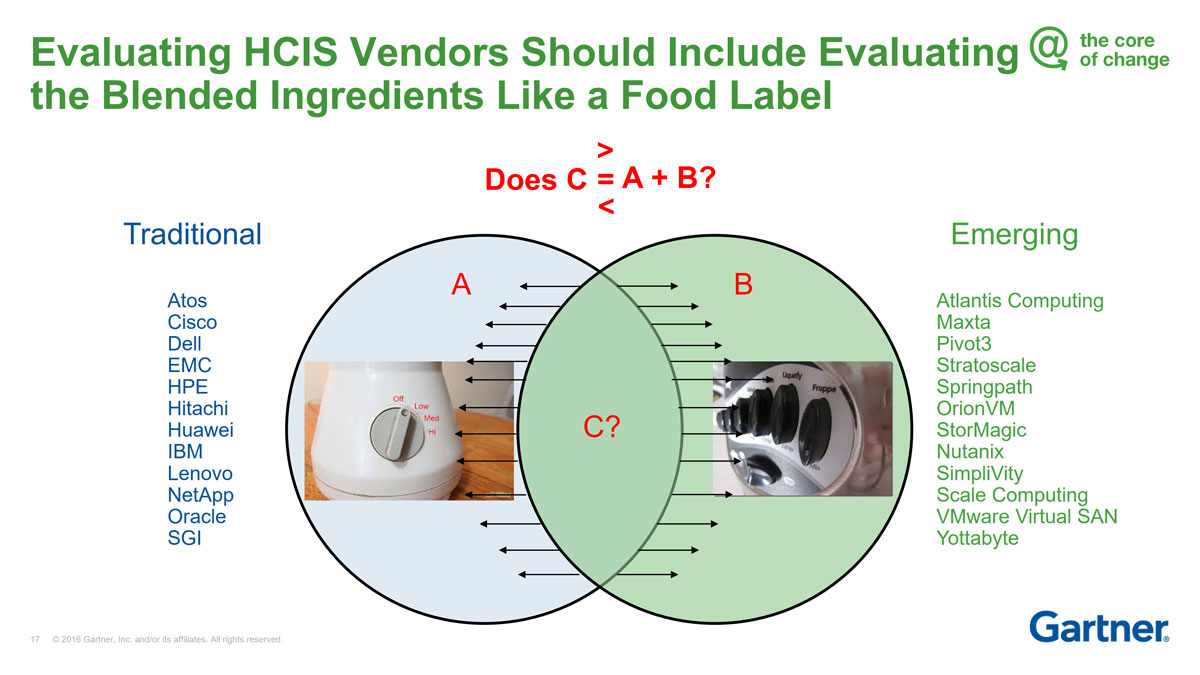 Source: Gartner, Prepare for the Next Phase of Hyperconvergence
Gartner has dispelled a common myth that traditional vendor selection will remain the same. Based on a focus group, loyalty towards traditional vendors is tested by several criteria:
Is the vendor increasingly fluent in the new wave of HCIS?

Is it seriously willing to disrupt its conventional solutions?

Does it have the vision to drive innovation?

Can it keep ahead of emerging, agile competitors and increase its savings?
According to Gartner, the commodity pricing of parts and infrastructure will offset any implied risks in choosing an emerging vendor.
Why is Hyperconvergence Booming?
Major trends explain why Hyperconvergence is growing: IT departments are increasingly under pressure to provision resources instantly; applications are becoming more dependent on scale-out systems based on commodity components; software-defined storage provides better efficiency gains and data volume growth is unpredictable and exploding.
As enterprises reshape their view of creating software products and services as a revenue center, they will want to develop an agile development culture and require flexible IT. With the need to build and deploy more than ever, IT needs to be ready to launch new applications quickly and reliably.
Hyperconverged infrastructure has historically been used to deploy general-purpose workloads, virtual desktop infrastructure, analytics and remote office workloads. In some instances companies use it to run mission critical applications, server virtualization, or high-performance storage.
As the market evolves and users become more familiar with the architecture, hyperconverged infrastructure will underpin private or hybrid cloud or agile environments that support rapid software-release cycles.
From Gartner's findings, the new wave of hyperconvergence will see an evolution from appliance to service paradigms, leading to HCI-aaS.
Hyperconverged infrastructure's promises simplicity and flexibility. But those terms can be subjective. Gartner's advice is to determine what those words mean to your business and then see which vendor's offering resonates the most with you.  
https://www.orionvm.com/wp-content/uploads/2023/08/orion_logo_v32.png
0
0
Daniel Pfeiffer
https://www.orionvm.com/wp-content/uploads/2023/08/orion_logo_v32.png
Daniel Pfeiffer
2017-05-10 04:42:24
2020-10-25 13:49:25
Why IaaS Will Power the Next Phase of Hyperconverged Integrated Systems