Hybrid clouds have evolved as one of the most common infrastructure setups. Unlike a multi-cloud setup, which involves a combination of different public clouds operating independent of one another, hybrid clouds blend discrete infrastructure components into one seamless platform and offer the flexibility and control necessary for companies to customize the setup based on their needs.
Few businesses today strictly rely on a singular cloud provider to support their full environments. Given the need for various cloud deployments to work alongside each other, companies should take care to select cloud service providers that best enable a multi-cloud approach. Or better yet, a hybrid cloud setup which also enables the incorporation of private and on-premises solutions. For both technical and business objectives a hybrid cloud approach can provide the most strategic overall value, as well as save significant money and time.
A hybrid cloud configuration is a mixed computing environment where applications are run using a combination of computing, storage, and services in different environments. This can be a combination of public clouds and private clouds, including on-premises data centers or "edge" locations. Companies are then free to choose the best deployment options for storage and computing power, keeping certain operations on-premises or inside a private cloud when needed while also reaping the benefits of public cloud services for other objectives. The rate of adoption for hybrid clouds has skyrocketed with the introduction of mixed cloud architectures including traditional virtualized cloud, rendering workloads on discrete GPU hardware, collocated appliances, and remote work environments.
Why is it something you should pay attention to, and what benefits could your business derive from a hybrid cloud model? This post explores the unique benefits of this topology.
The motivations behind hybrid cloud
The technical and business case for cloud infrastructure was originally for its scalability, performance, reliability, and cost. For example:
Control over your investment: Cloud infrastructure can be deployed without steep upfront investment in hardware, and ongoing costs for support contracts, physical security, colocation, and hardware replacements. Organizations have the control to determine which applications are kept on-site or in a private cloud and which ones are best suited to public clouds.
Scalability: Cloud can be scaled horizontally and vertically depending on changing requirements, and can be rebooted or upgraded seamlessly with minimal downtime.
Cost advantages: Thanks to the lower upfront and long-term costs associated with a hybrid model, it can be easier to scale, realize a return on investment and centralize data without migration costs. How you are charged for the public cloud services you add also matters. The pay-as-you-go model offered by OrionVM also means you're only charged for what you use, from virtual compute, storage, networking, and software licensing.
Optimal performance and security: Companies implementing a hybrid cloud infrastructure can optimize for what sensitive applications need to remain in private networks which also take advantage of the power and options that come with public cloud services.
Our experience at OrionVM has been that most workloads are well suited for operating and importing on cloud infrastructure, but that some workloads may still require hardware, such as:
Customers may already have investments in existing hardware they wish to retain, or depreciate over time as they advance through their organization's stages of digital maturity.
Certain workloads require dedicated hardware components, such as GPU passthrough or specific network interfaces.
Vendors may only support specific hardware SKUs or models, such as databases.
Hybrid cloud permits the integration of these physical assets with cloud infrastructure to deliver the benefits of both. Customers can:
Supplement existing hardware with burstable cloud capacity where required.
Gradually depreciate or replace legacy hardware with new cloud infrastructure on the same network fabric.
Deliver best-of-breed solutions with a mix of optimized hardware and cloud.
How hybrid clouds work
Hybrid clouds on OrionVM are made possible thanks to the platform's unique software-defined network stack. Hardware, networks, and virtual computers are all delivered on the same OSI layer 2 subnets, without NATs or intermediate routers.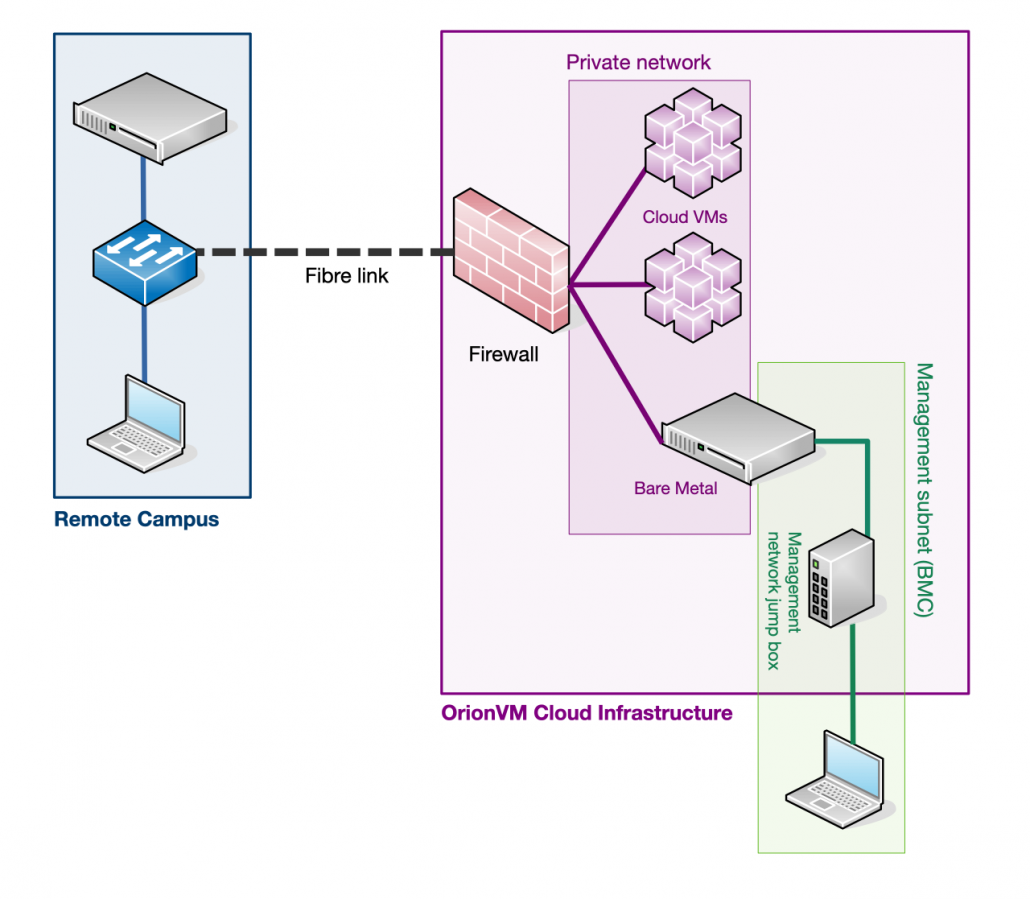 This approach offers several key advantages:
Simplified network configuration: A single user-configurable private network can span remote offices, bare metal, and public cloud. No messing with additional routers or traversing NATs; the public IP is allocated directly to the bare metal or virtual compute interface.
Reduced latency: By decreasing the number of routers and hops between end-points. This can be especially important for media streaming and real time rendering applications.
Add-on with ease: With OrionVM's unmetered interconnects and affordable port costs, it's trivial to add an additional remote site, collocated hardware cage, or on-premise hardware into an existing cloud topology.
How can I import my environment into the hybrid cloud model?
Not all hybrid cloud strategies are the same, and will vary by organization. What works for your company will be driven by your unique business requirements. Companies should start by defining their vision and assessing workloads, infrastructure, patterns, and system processes. We pride ourselves at OrionVM at taking the time to deeply understand your organization's specific requirements. The process begins by scheduling a call with our sales and architecture teams to whiteboard a solution, or see how we can work together to deliver a solution.
https://www.orionvm.com/wp-content/uploads/2023/08/orion_logo_v32.png
0
0
Daniel Pfeiffer
https://www.orionvm.com/wp-content/uploads/2023/08/orion_logo_v32.png
Daniel Pfeiffer
2023-06-30 12:41:23
2023-06-30 12:42:25
Hybrid Cloud Advantages